loginTimer is powerful software that automatically scans your computer login times and secretly stores them for you in a private text file, in addition to all users' login date, time, total logins each day/user, admin actions, login behavior (local and remote) and saves them continuously, one by one, in a private log file. This makes it easy for you to identify any suspicious activity on your computer and take appropriate action if necessary. It included the first successful discovery of Y2K38 technology. This software works up to 2099 and after, with no Y2K year limitations. The software is useful for home, business, personal computers, computer networks.
Trial and Professional: Portable only in computer drive and folder.

The portable application works in any of within your personal folder in computer other than Windows system drive or desktop. This works only in the computer hard drive. Do not run this software from any other external hard drives or pen drives.

Place the loginTimer folder in any drive (Eg: E:\\your folder\loginTimer) or inside sub folders you choose. (Eg: E:\\your folder\loginTimer not in C:\\ drive or Windows installed drive). Also it should be any of the folders, not to place directly in drive because privacy you only knows where the program location.
You can rename loginTimer folder name to any name.
First time you must activate 'Run as administrator', loginTimer.exe. Log file including login statistics will be created regarding current User Account. You can see each login log whenever the computer login happens. Another new entries will become next automatically. Log entry will not create from computer sleep mode to wake up.
If you want to change the folder location you can do it by simply copy the folder and place in another folder, then activate 'Run as administrator'. Path Changed status will be prompted in log entry file. Also you can copy same log file to new folder if would like to retain old logs or new log file will be created there. You can delete the old folder after path changed, by Log off computer and login again.
Another user cannot activate or change folder from another User Account either Trial/Professional versions once activated. Also you can regularly verify your own as well as all other User Accounts log entries, means whoever used your computer system.
You don't need to activate it to another user account once activated for only one User Account, and you can see every users accounts login statistics logs too in the same folder.
Specification: loginTimer (Professional) can be used for years without limitation to an expiry date for one computer. Professional can be activated only for the user either who activated Trial or first time user.
If you wish to check the Y2K38 compliance of the Trial first run, you should alter the system date to after 2038. Then activate and run the utility as described. When you alter the already activated year to any previous year, the Trial won't work, and the Professional always works.
About Logs
Thursday 13 - 2 - 2020 | 2 : 0 : 49 AM 1 Admin [Activated Info,Path changed], LoginBehaviour: Interactive | Domain: User-PC | AuthenticationPackage: NTLM | Server: USER-PC
Logs represent:
Date (day, month, year) and Time, Total logins each day, Admin actions, Login behavior.
Specification: English language for all entries. (Log file is 'Ready Only' attribute, do not manually change/update log file.). Y2K Y2K38 (2038 Year) problem fixed in 32-bit Multibyte exe. It proved to work up to 2099 and works after 2099, we also have available years up to 2099 in computers.
Trial version: 9.3.8.23 (Y2K38)
Professional version: 3.8.23.30 (Y2K38) Tested Windows 7 up to 31-12-2099, Windows 11 maximum date.
Requirement recommended 64 bit Windows operating system:
Windows 11/10/8/Server, 32/64 bit or Windows 7 Ultimate 64 SP1-IE11(updated and .NET).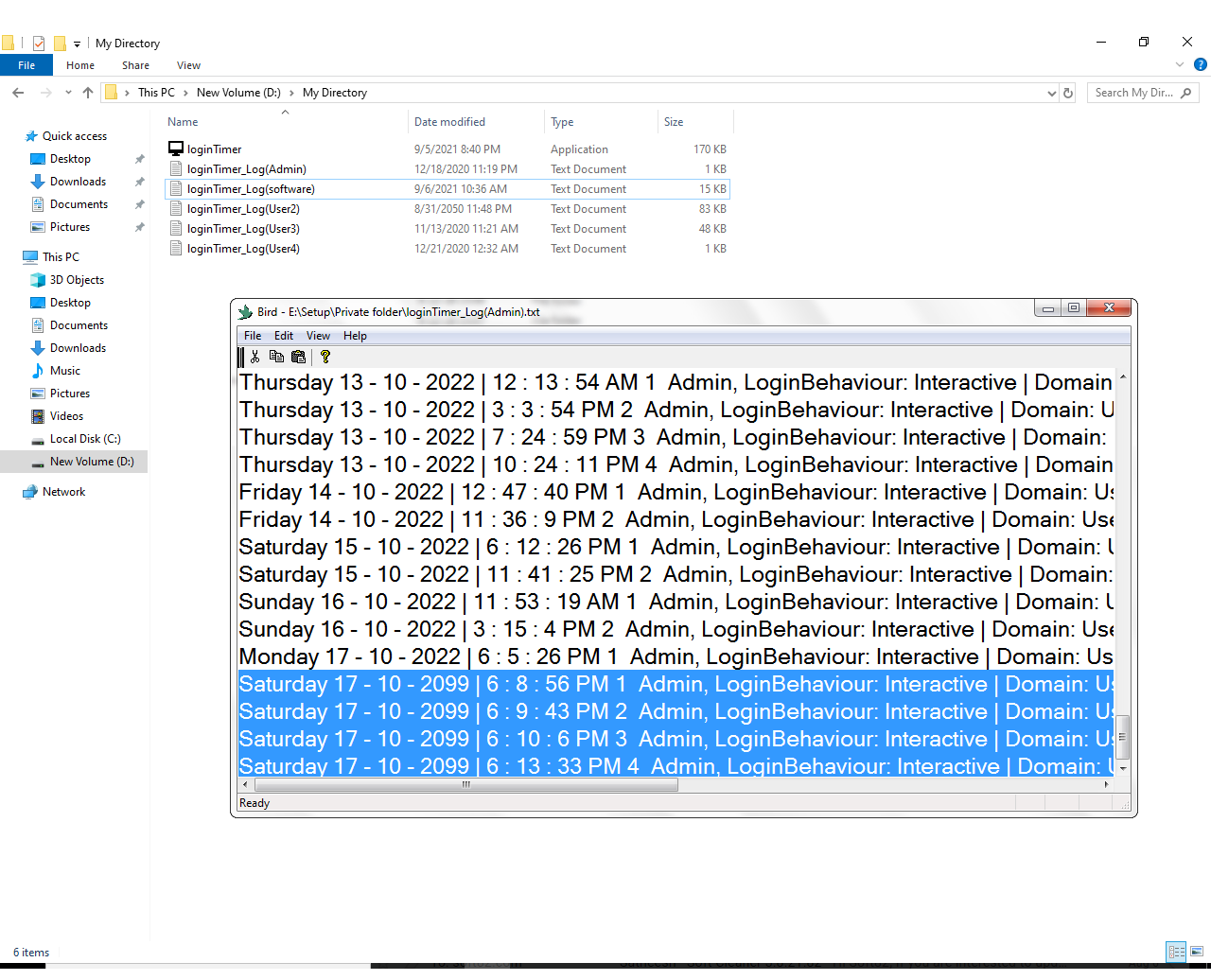 Look at the screenshots to activate the software without any help. For further help, have a look at the detailed instructions.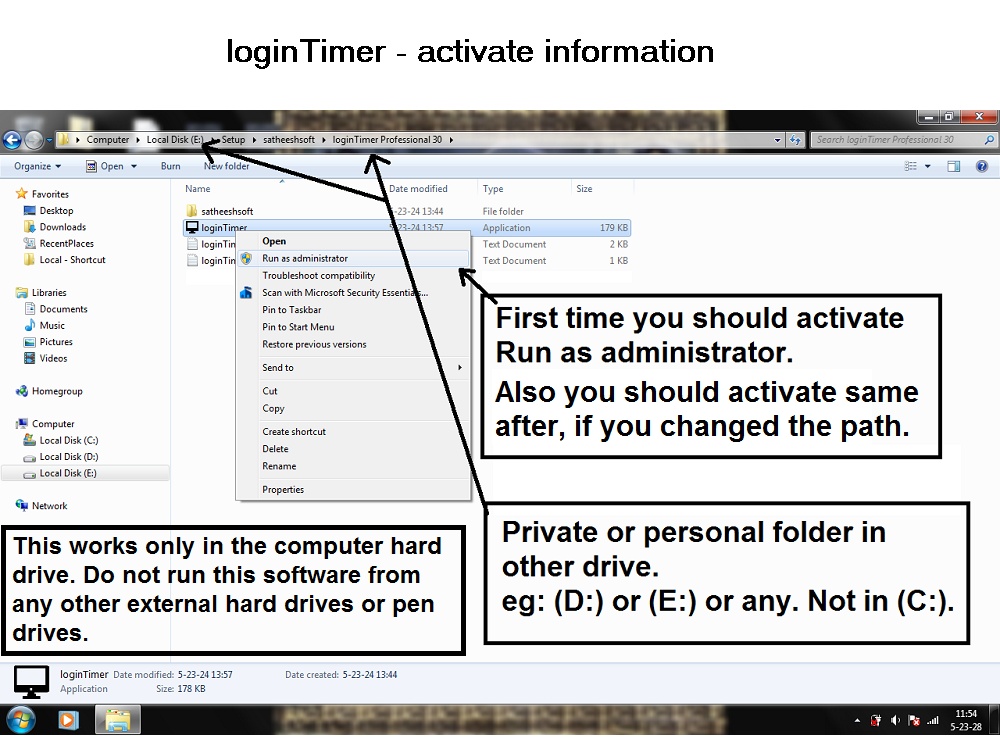 What is Y2K38, and how does it impact the world?

Let's describe in common so that everyone can understand. Y2K38 means the year 2038. We have had a timing system developed programmatically by some companies or organisations before. The timing system is working. And there is something missing programmatically and hardware side something mismatch or so on. Due to those mismatches, the timing system or clock produces unexpected errors from January 2038 onward. And the result is, when we programmatically retrieve the time from the computer, we get 1918 or something, or any date, day, month, year that is completely unpredictable and absolutely incorrect. So we won't get the correct date. The systematic world calendar collapse.
The real problem may be that, on the wrong date, every online and offline software system will completely collapse. Even the internet browser, every operating system, the internet, satellite, mobile phones, aeroplanes, even simple to super computers, and whatever works with computers or devices, every organisation that works with computers, and more. You can imagine the problematic impact on the world of the lack of Y2K38 technology. Because everything runs with the help of software.
How can loginTimer help the world?
loginTimer is a software program that, from December 2020 onwards, integrates Y2K38 technology. This technology module is properly and successfully tested in computers to retrieve the exact date from 2038 onwards up to 2099. And it works after 2099 too, with no problem. It means this technology will surpass future Y2K problems. The build is a 32-bit Multibyte exe. Our technology can easily overcome the real Y2K38 problems mentioned before. It will become a lovely stress relief habit that every day you will love to verify software logs before starting any work.
Advantages:
The ability of loginTimer to automatically save whenever each user starts using their individual computer accounts can be useful for those who want to keep track of how the most recent changes made to the computer affect its performance.
Explicating further, if your friends or family don't know how to use safe browsing practices, virus-infected files may end up being downloaded and processed, resulting in issues with the entire system. Therefore, the administrator of the impacted computers can quickly determine, using loginTimer records, which profile may be at fault before pursuing options for data recovery or a complete system reset.
loginTimer can be valuable to businesses, home or personal computer users and other institutions, where self or more individuals are logging to the same computer.
Mainly such illustration would be numerous individuals logging to inaccessible server. So, the proprietors can keep track of precisely when anybody is utilizing the computer.