Clean numerous virus and clogged files from your computer. This high powerful virus cleaning utility which capable to continually enter inside virus files and perform uncompromising quick remedy. Various types of virus and varying behavior scenario, the different Antivirus solutions can monitor uncommon viruses depend on the latest virus update and behavior.

Soft Cleaner included a strong unique functionality to clean such all virus cases. You should store virus files locations one by one on desktop Soft Cleaner - Virus Cleaner.txt either manually or by other software products. Apart from virus files, if you wish to clean any sticky file from your system same method can be useful.
Game Booster works with Virus Cleaner. So you don't bother about if there no virus files entries to write. It works for boosting your entire games, not only one or two. Its for entire computer resources even more standard and well optimized. Once it completed, you can start your computer games especially memory utilizing games. If there is no virus file entries, no restart needed. After optimization you can use computer normal.

During the virus cleaner it is common, computer performance become sometimes slow. And any injects worms still active in behind or not is unpredictable. It is recommending to optimize and speed up your computer after. As per the number of virus files and their tight behavior depends whether you restart the system or continue. It is good to restart the system after virus cleaning procedure. After restarting computer, its one more time to optimize, no restart needed. Then use your computer become normal.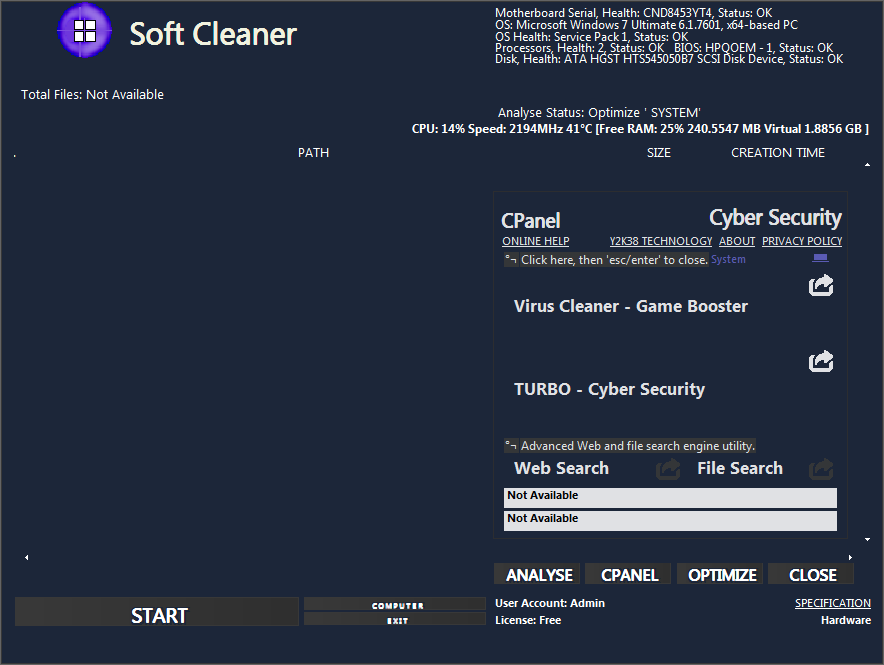 Click on CPanel, Virus Cleaner - Game Booster. For first time Soft Cleaner - Virus Cleaner.txt will be created on your desktop. You should specify all virus files locations one by one in to specified notepad on desktop. Then Analyse and Optimize directly. The virus files will be cleaned perfectly.
You can specify virus files (172 MB maximum size/file) locations manually or by other software products virus monitor. All other software products can automatically store the virus files locations in to Soft Cleaner - Virus Cleaner.txt when any active virus found in system. Yes, Virus Cleaner inside Soft Cleaner can clean hundreds and thousands and millions of virus files continuously with a tap.
Note: You don't access any file manually or any other things in computer during virus cleaning task.
Note: It already removed some 'Kernel Mode Rootkits' successfully with TURBO. Hence you can go for a try if you attempted several times before.(It doesn't involve in documents/pdf/similar files manually).
Requirement recommended 64 bit Windows operating system:
Windows 11/10/8/Server, 32/64 bit or Windows 7 Ultimate 64 SP1-IE11(updated and .NET).